Premium Frozen Finger Foods
Our finger foods give our partners leverage and competitive advantage in the market
Our frozen finger foods have helped our partners gain market share and grow profits in their respective markets for almost 20 years.
Superior taste and quality has made our partners highly sought after in every market we've been introduced to, giving them greater leverage to sell other products.
An undeniable success, they are exported to Europe, Asia, South America, Australia and New Zealand. We supply them to food importers, distributors and retailers for sale to retail consumers and hospitality businesses including cafes, bars, restaurants and caterers.
---
Our most popular finger food, equally popular with Western and ethnic diners.
We hand wrap a traditional blend of fresh vegetables in a thin, premium pastry. Advanced, low oil absorption pastry gives each roll a delicate, distinctive crunch.
Ranging from bite sized cocktail snacks to jumbo sized light meal rolls, they can be deep fried or baked, perfect for caterers or busy kitchens.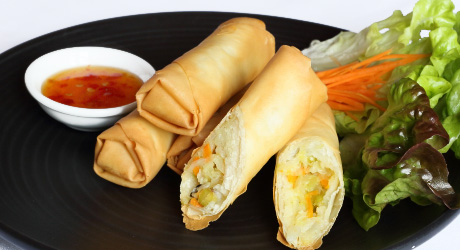 Vegetable spring rolls
---
A popular favourite around the world for over a decade, our authentic, rich tasting Indian curry samosas are liked by Western and ethnic consumers alike.
We use fresh potatoes, onions, green peas and an authentic Indian curry blend of herbs and spices to infuse an irresistible aroma. Advanced, low oil absorption pastry reduces the heavy feeling often associated with curry samosas.
Ranging from bite sized cocktail pieces to larger entrée style snacks. Caterers and busy kitchens can serve them deep fried or baked with minimal effort.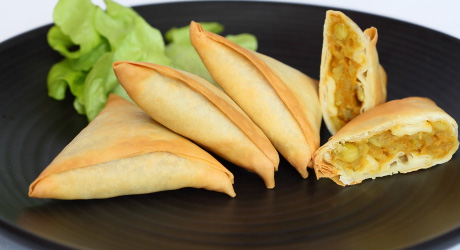 Vegetable Curry Samosas
---
A beautifully presented snack featuring a delicious tasting blend of fresh vegetables, hand wrapped in a premium, light pastry pouch, hand tied with an edible strip of melon.
Our advanced, low oil absorption pastry seals in the aroma and gives each snack a distinctive, crisp crunch.
Perfect for busy kitchens and caterers, they can be served deep fried or baked.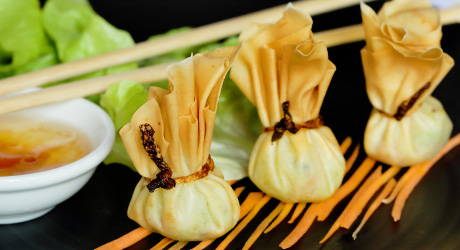 Vegetable Money Bags
TALK TO US
We currently have partners in Australia, New Zealand and some countries of Europe, Asia and South America. We seek new food importers and distributors to partner with in North America (US and Canada), Europe, South Africa, Asia, the Middle-east and South America.

 

European countries where we seek new partners include Britain (UK), Ireland, France, Belgium, Netherlands, Germany, Austria, Spain, Portugal, Italy, Sweden, Switzerland, Norway, Finland, Luxembourg and Denmark. In South America and Central America, we seek partners in Argentina, Chile, Panama, Peru, Colombia and Mexico. In the Middle-east, we seek partners in Saudi Arabia, United Arab Emirates (UAE), Bahrain and Qatar.
Talk to us