Spring Roll Pastry & Samosa Pastry
Beautiful, superior-performance pastry makes food easier and tastier
Critical to millions of kitchens worldwide, ready-made "popiah" or spring roll pastry is consumed in large quantities by restaurants and homes.
Our superior-performance pastry is easier to use. It makes food crispier, tastier and less oily. And it contains nothing artificial.
A truly remarkable product, it is a result of dedicated research by some of the industry's brightest engineers and food specialists.
Chefs love its performance
---
Chefs love our pastry because it delivers superior performance at every stage.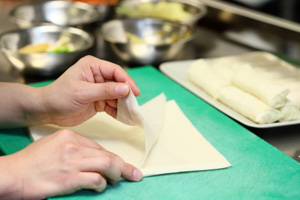 Faster preparation
1. Easy to separate and peel
2. Thin but strong and elastic; and
3. Soft but not too sticky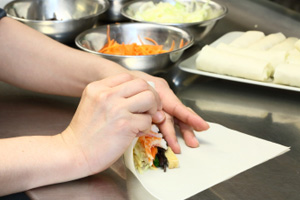 Lower wastage
4. No holes and not brittle
5. Not easy to break or tear
6. Tolerates exposure to air for long periods
7. Can be re-frozen and stored for future use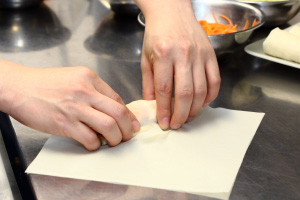 Better result in deep fryer
8. Maintains integrity, won't break open
9. Won't break off small bits
10. Less likely to burn
Diners appreciate the difference
---
Our pastry makes food crispier, tastier and less oily. It is excellent pastry, worthy of the best kitchens, from skilful street vendors to the finest restaurants.
After cooking, it emerges with a deep, golden colour and retains a beautiful, smooth texture. Its crispiness and distinctive crunch last longer.
Low oil absorption ensures oil isn't retained on the surface or allowed to penetrate the filling.
Importantly, it contains nothing artificial:
No MSG
No preservatives
No artificial flavouring
No artificial colouring
No cholesterol
Suitable for vegetarian dishes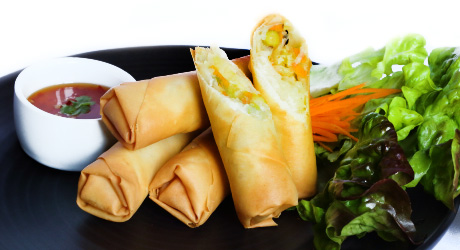 Our advanced, low oil absorption pastry 
Unrivalled quality control
---
Our international accreditations include:
BRC Certificated: British Retail Consortium's Global Standards for Foot Safety
Certified ISO22000: Food Management Systems
Produced under HACCP principles
Certified GB/T 27302: Quick Frozen Convenience Foods
Halal certified
We have been making and using "popiah" spring roll pastry for almost 20 years, hand wrapping our own line of finger foods.
Our superior performance is driven by years of painstaking research fed with detailed feedback from users continually reporting to our partners.
Each production step is carefully engineered to ensure consistent quality.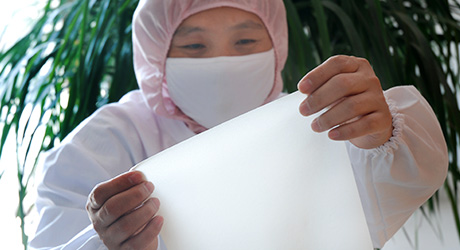 We have almost 20 years' experience making pastry
One ingredient, used by many
---
Our pastry is highly valued, exported to select partners in Europe, South America, Asia, Russia, Australia and New Zealand.
It is used in high quantities by restaurants serving Asian cuisine, especially Chinese, Thai, Japanese, Indonesian, Malaysian and Vietnamese. It is used in many dishes and finger foods including spring rolls, money bags and samosas.
It is also popular with Asians who enjoy preparing food at home.
Eaten cooked, the pastry is used to wrap uncooked ingredients and deep fried or oven baked. It is also eaten uncooked when used to wrap already cooked fillings.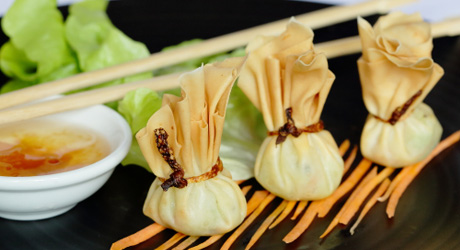 Restaurants consume our pastry in large quantities
Sheet Size
---
We produce pastry sheets any size you request within 250mm x 250mm.
Spring roll pastry is typically square shaped, while samosa pastry requires a more elongated rectangular shape.
Standard sizes currently supplied to our partners include the following:
Spring Roll Pastry
(Square)
| Millimetres | Inches |
| --- | --- |
| 250 x 250 | 10 x 10 |
| 215 x 215 | 8.5 x 8.5 |
| 190 x 190 | 7.5 x 7.5 |
| 150 x 150 | 6 x 6 |
| 125 x 125 | 5 x 5 |
Samosa Pastry (Rectangular)
| Millimetres | Inches |
| --- | --- |
| 75 x 250 | 3 x 10 |
Sheet Thickness
---
Our spring roll pastry is highly advanced and can be produced in a variety of thicknesses, from very thin to very thick.
Based on a sheet size of 215 x 215mm, we currently produce pastry for our partners in thicknesses ranging from 12.5g per sheet to 16.5g per sheet.
We can customise the thickness to the needs of your market. We currently produce pastry for a number of Asian countries and several Western countries and find preferences on pastry thickness vary from market to market.
Samosa pastry typically needs to be thicker than spring roll pastry.
Packaging and Branding
---
We are a white brand optional supplier. Some partners sell our pastry under their own brand. Some choose to use our brand. We are happy to provide both options.
Packaging material, configuration and quantities can be customised to your request. We typically package the pastry in high quality heat sealed nylon bags. A resealable zip lock can be added.
Typical bag configurations are 20, 25, 30, 40 or 50 sheets per bag.
Artwork can be customised to your request. Original, high-quality product imagery is available for packaging and advertising use.
TALK TO US
We currently have partners in Australia, New Zealand and some countries of Europe, Asia and South America. We seek new food importers and distributors to partner with in North America (US and Canada), Europe, South Africa, Asia, the Middle-east and South America.

 

European countries where we seek new partners include Britain (UK), Ireland, France, Belgium, Netherlands, Germany, Austria, Spain, Portugal, Italy, Sweden, Switzerland, Norway, Finland, Luxembourg and Denmark. In South America and Central America, we seek partners in Argentina, Chile, Panama, Peru, Colombia and Mexico. In the Middle-east, we seek partners in Saudi Arabia, United Arab Emirates (UAE), Bahrain and Qatar.
Talk to us